Licences
Downloads for professionals

If you are a normal music user you can go to the Download Page to learn about how to download music and video on Yipe!
Who is the "Pro" licence for?
The "Pro" licence is a free licence for Air Play, TV, journalists, magazine reviews, DJs who perform publicly, and other professionals. Download a password protected zip file, with high quality files for use in your professional work.
Content is suggested, as different DJs and producers can decide what to include. You can see the actual content of each download in the shop.

Read more about how DJs and producers can Work With Yipe!

If you are eligible for the Pro licence you will automatically be added to our VIP Newsletter. Otherwise please Contact Us with your name and work title/work place, and promotion copies of upcoming releases will automaticaly be sent to your inbox around 30 days before release date. If you need it before that, for example for reviews in printed magazines or upcoming shows, please contact us.
Stem files for DJs
Some downloads offer Stem files for DJs, but for a premium price to cover the extra production costs involved.
Just select the "Stem" download, and your download will have a fixed price of a few bucks instead of being free.


Watch this video about live mixing with Stems:
Suggested content of "Pro" licence >
A 320 kbps/44.1 to 48 kHz mp3, with meta data, for quick use, radio shows and less demanding DJ gigs.
A FLAC file losslessly compressed from a 44.1 to 48 kHz/24 bit high quality Wav file.
PR material.
Meta data sheet.
Artwork.
High quality video/audio (HD/320 kbps).
Stem files.
Other files and deliveries on request
How to get it?
Go to the Yipe Shop, download the zip file, and email us with name/title/work to get a password.
Who is the "Remixer" licence for?
Yipe understands the value of talented remixers and you should be treated fairly. If you feel inspired by one of our artists, you can download a remixer package with pre-master stem files. You can freely remix any song that offers a remix package. It is normally free to get the remix files, but in some cases the remix files might cost a small fee. Yipe grants you the rights to sell the new version through all online digital distribution channels of your own choice, and keep all profits from the download sales. How about that!
On top of that, Yipe even grants you a 15% remixer share of the performing rights so you can earn money by getting your remix played and streamed.


Read also more about how DJs and producers can Work With Yipe!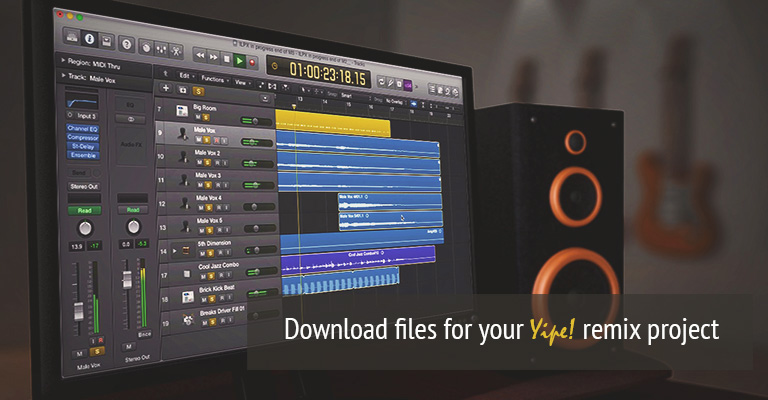 Sell your Yipe remix on Yipe's website
You can also sell this remix in the Yipe network, non-exclusively, and keep 90% of your sales, minus credit card fees. Decide your own prices in the "Yipe Vibe" download, decide package contents, and use all download types except "Yipe Lover". You need to have your remix approved by us. It must fit into our label's style. Even as you remix one of our own tracks, your remix might not fit. Odd, but true!

If we REALLY like your remix, we might offer you a real Publishing Deal.
Sell any music and video on Yipe's website
If you would like to better monetize your own creative work you can sell your tracks, mixes and video on Yipe's website, even you are not affiliated with Yipe. The terms are the same as above and you need at the moment to accept a 3 month pay out schedule. At this point we are not able to offer faster pay outs, but Yipe will at some point offer faster payment on your sales. But as your listing with Yipe is non-exclusive, you can sell on any other website too. You can also offer remix files, stem files and royalty free downloads. Just contact us from our Contact Page if you want to use this option.
how to do it?
Download the remix package and mail us to get a password, so we know who you are!
Your mix must include the original song title, for example like this: "It Happened To Me - DJ Your Name - mix type"
When you have finished your remix, send us your finished files, artwork, and all information needed to register the remix and make your remixer contract, and additionally a publishing or shop sales contract if needed. Please use the questionnaire in the Zip file.
Yipe will register the remix worldwide, add ISRC codes, and send the tagged files back to you. Your music will get a publishing date and a catalogue number if it is a publishing deal. A promotion copy will in that case also be sent to our VIP list.
How to get it?
Go to the Yipe Shop, see if your track offers a remixer licence, download the file, and email us to get the password.
- Suck in the Yipe Vibe, check out the music, spread the word! -